The Hard Right Thing
13 September 2021
The German based sim racing peripheral company Endor AG (E2N.MU and E2N.SG) is one of the larger positions in my portfolio. Over the past several years, the company through the Fanatec brand has created its own market in the premium end of the sim racing space, with a market share by revenue now similar to peers Logitech (NASDAQ:LOGI) and Guillemot (GUI.PA).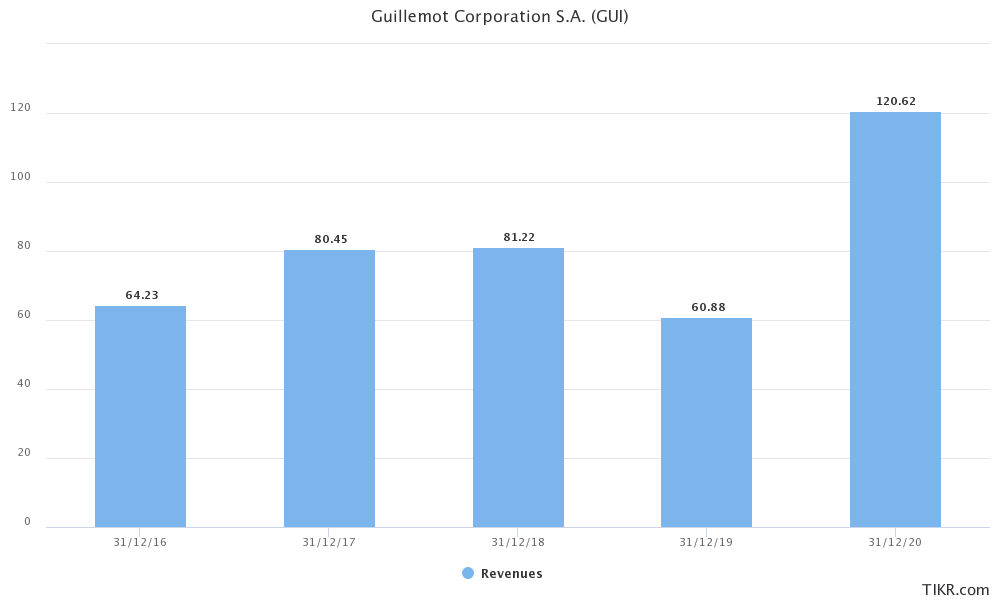 GUI.PA revenue is €m. The company also sells flight sticks and DJ gaming peripherals. Roughly €81m of revenue in 2020 are from sim racing sales
Endor AG revenue in €m. Almost the entirety is sim racing related sales. Revenue growth vs GUI.PA highlights how the company has been able to create a market single-handedly in the premium sim racing space
There are articles on Endor AG written by Jeremy Raper (Jul 2020), Icaria Capital (Mar 2021) and was ranked #2 in Alta Fox's The Making of a Multibagger. The company background, value proposition, competitive landscape, sim racing trends, and pandemic impacts have all been covered in these great posts. I won't be going over the same ground, so I'd strongly recommend checking them out before continuing further.
Left-to-right: A Fanatec pedal set, wheel and wheel-base.
Hard things are hard
I'm a firm believer of doing the hard right thing. Tackling a problem that's a key reason to holding you back, but requires a high level of commitment in order to resolve. A problem that's easy enough to kick down the road, but over time strangles the avenues of growth and optionality. A problem that is big, hairy and with it runs a significant level of career risk should you fail in your attempts to resolve it.
"I'm so proud to work here. Because you've done the hard right thing. Which is in the midst of where we are, leaned into something that we have massive conviction around... We know a secret that the world doesn't know. It might take them six months to figure it out and we're gonna get roasted in the interim."

-- Sam Hinkie on making unpopular decisions with Daryl Morey at the Houston Rockets NBA team, Bonus Episode: A Rare Conversation with Former Philadelphia 76ers GM Sam Hinkie (26:23), ESPN Daily Podcast.'
"Every time you make the hard, correct decision you become a bit more courageous and every time you make the easy, wrong decision you become a bit more cowardly. If you are CEO, these choices will lead to a courageous or cowardly company."

-- Ben Horowitz. The Hard Thing About Hard Things (p. 213). Harper Business. Kindle Edition.
Management teams that do the hard right things are willing to take heat in the short term, for benefits in the long run. The hard right thing is what needs to be done. The question it's whether one possesses enough courage to do it.
Endor AG is one company that is willing to do the hard right thing.
Sim racing "ecosystem"
The customer purchasing decision in the low-mid range of the sim racing peripheral market is pretty simple. A wheel and pedal bundle is selected based on price, its system compatibility (PC, Xbox or Playstation) and the type of games being played.
As we approach the mid-high range of the market, the "ecosystem" becomes an important component of the decision making process. When a customer is spending between USD$650 to USD$4,000 and upwards, the upgrade path and available customisations are key concerns. Nobody wants to spend good sums of money, only to be painted into a corner when their requirements change. Perhaps they'd like a new wheel that's more suitable for a specific style of racing, look to upgrade to a more powerful wheel-base, or perhaps would like to add a load-cell brake pedal for a more predictable braking point.
Interchangeable wheels
In different types of motorsports, be it Formula 1, Gran Turismo, rally or drifting, different types of wheels are used in different vehicles. Serious sim racers also like to switch wheels to match the vehicles they're driving in the virtual world. After all, an F1 wheels is not designed to be turned more than 180 degrees, and attempting to drive a rally car with one would be a clumsy and frustrating experience.

A few different types of wheels in Fanatec's range
Both Fanatec and Thrustmaster, the latter excluding their lowest end products, allow for wheels to be swapped. The wheel connection systems are not dissimilar to real world F1 cars that allow the removal of the steering wheel to help the driver squeeze into the cockpit.
Fanatec currently has a very competent system called the Quick Release 1 (QR1) that allows for interoperability between all Fanatec wheel-bases and wheels sold over the past few years. It scales from their more affordable wheel-bases that can generate 5 newton metres (Nm) of torque all the way to the very high end that is capable of delivering 25Nm. This provides a customer with the assurance that they'll be able to use whatever wheel they want with their Fanatec wheel-base. And should they decide to upgrade the wheel-base, all their existing wheels should work perfectly as well.
Not one to sit still, Fanatec is planning to introduce a new quick release system dubbed the QR2.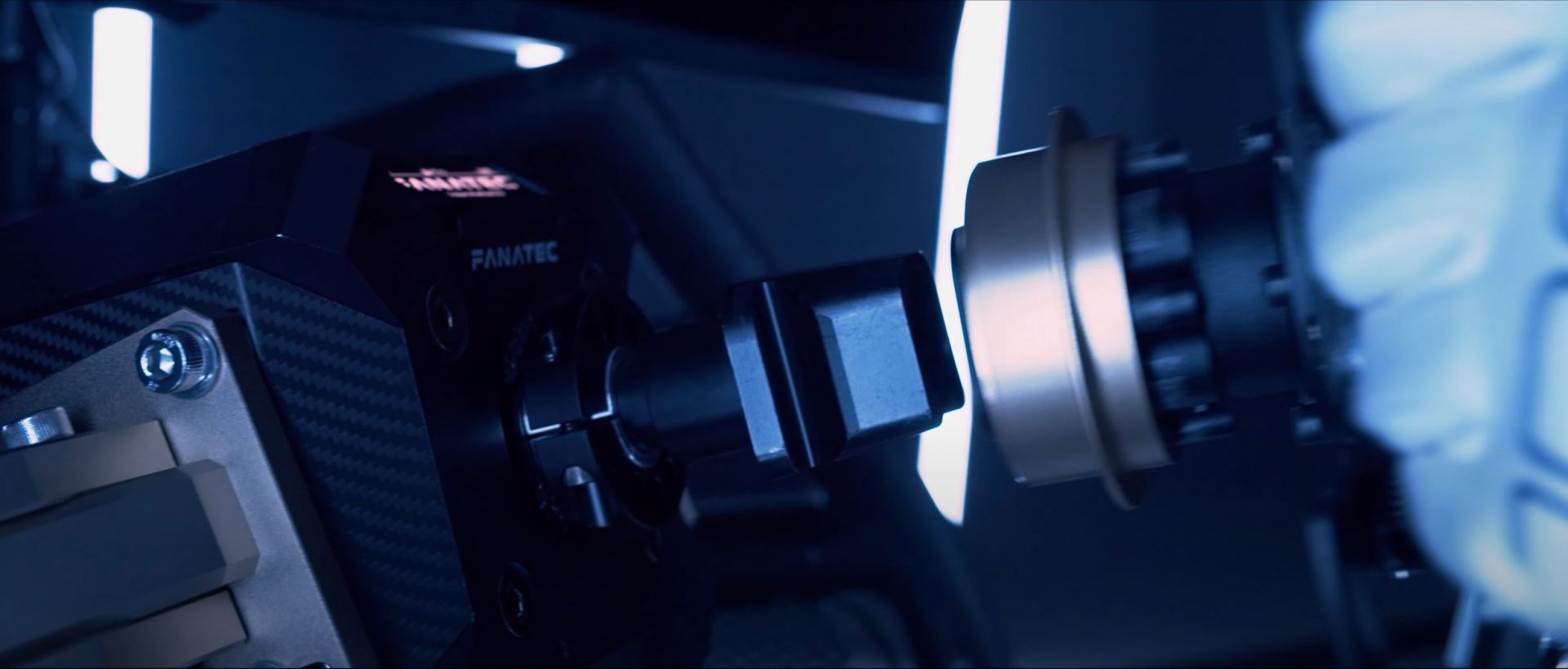 Fanatec's QR2 quick release system. Squarish rather than cylindrical
The QR2 will enable the upcoming BMW M4 GT3 and Bentley GT3 wheels to be compatible with both Fanatec sim racing wheel bases as well as the actual real life race car!
The new system will also seek to address some of the current criticisms of QR1, by providing for a more robust and sturdier connection.
There are a couple of easy ways to introduce QR2. One would be to assign the QR2 to the high end wheel-bases and wheels, while retaining QR1 for the others. Another, would be to simply introduce QR2 along with new product introductions. However both methods will break the existing contract with customers that all wheels will work with all wheel-bases. Although it will reduce the burden on the company, this will be shifted to the customer through a "split" the ecosystem - between the QR1 compatible products and QR2 ones.
Endor AG decided to do the hard right thing. They took down the wheel bases where the quick released systems could not be upgraded and refreshed the entire range of wheels with upgradeable quick releases. This type of transition is difficult for the company. There's missed sales from wheel-bases that could have been retained, as well as the costs and disruptions associated with redesigning wheels. However it provides the customer with confidence that there is an upgrade path for the entire range of products available today.
By putting customers ahead of the company's short term financial goals, Endor AG is opening up optionality in the long term while strengthening the relationship with their customers.
Questions asked of Guillemot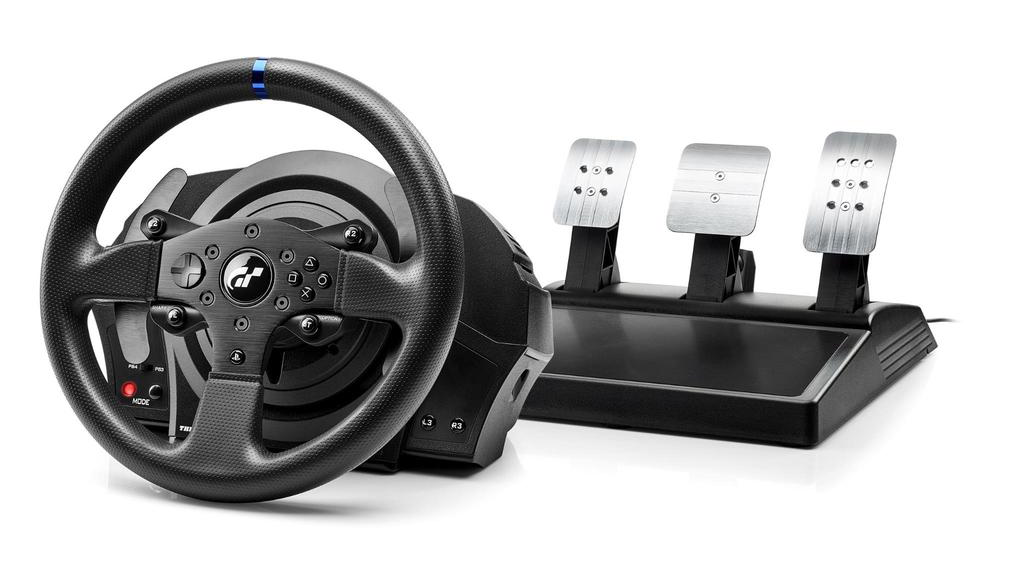 Thrustmaster T300 RS GT Racing Wheel and pedals
Guillemot has fired a warning shot by stating that they'll announce a new Thrustmaster "Direct Drive Racing Wheel for PC" before year's end. This is likely to be the company's first entry into the premium end of the market. To be truely successful, they'll need to ensure the wheel connection system will stand up to high torque levels, provide a premium product worthy experience, and ensure a solid ecosystem of compatible wheels and wheel-bases.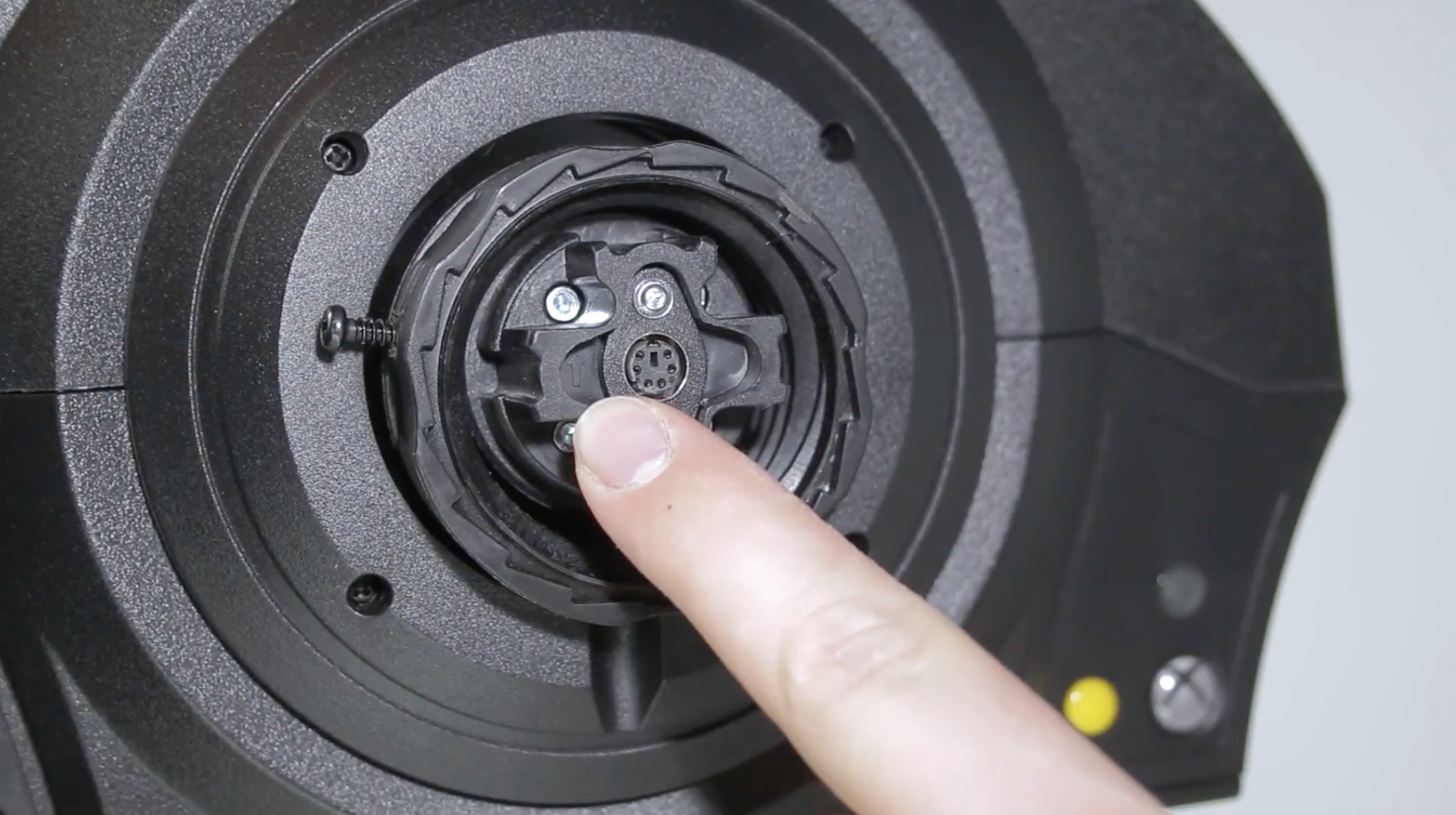 A wheel connector on the Thrustmaster TX wheel-base
The current Thrustmaster wheel connector is in many ways inferior to Fanatec's QR1. The connector itself is made from moulded plastic, rather than automotive grade metal. And the process of attaching a wheel involves, turning a plastic ring over the wheel and turning a screw with a screwdriver. And a reverse of the steps to take the wheel off again. The whole process does not facilitate for easy swapping on a regular basis, while the plastic moulding would be questionable for future wheel-bases with potentially higher torque levels.
What Guillemot decide to do with the wheel connector on the new direct drive wheel-base is a point of keen interest. The most obvious options include:
Retain the existing wheel connection system.
Introduce a new connector with the new premium product, while retaining the old connector for the existing wheel-base range.
Refresh the whole product lineup with a new wheel connector.
Options 1 and 2, while easy for Guillemot to implement with the least amount of effort and cost, introduces challenges for the customers.
Retaining the existing system will build upon a strong ecosystem of compatible wheels and smooth the upgrade path for existing customers. But it'll not be a solution becoming of a premium product, and retain all the existing disadvantages for what is a low-end design.
Introducing a new connector of the new premium product will split the ecosystem of compatible wheels and wheel-bases. More importantly, it'll create a disjointed upgrade path for those from entry level Thrustmaster sets looking to move up - creating an unintended churn event.
The hard right thing would be to refresh the whole product lineup with a new wheel connector and put the customer as well as the product ecosystem first. It's an option that requires initiative, foresight and most importantly courage. Courage to take the short-term pain to achieve the best long-term results for all stakeholders.
This is a big upcoming test for the team at Guillemot, and one I'm not confident they'll pass.
Ride or die
A management team's propensity to do the hard right thing, is a key characteristic I look for in a business. It demonstrates independent thinking, a strong unwavering vision, and the courage to stand up against the crowd.
These courageous incremental decisions compound over time, to build a brand with an incredibly fanatic customer base. A following so strong, that with the announcement of the new Fanatec CSL DD, customers pre-ordered and made payment in full a whole 4 months in advance!

The new Fanatec CSL DD wheel-base. Direct drive technology that had previously reserved for high-end products, now aimed at the mainstream.
In Fanatec, Endor AG has created an incredible global brand. One with a similar level of customer fanaticism as other premium consumer electronic brands such as Tesla, Peloton, RED Digital Cinema, or Apple's iPhone of yesteryear.
With a strong structural tailwind in sim racing, a rejuvenation of motorsports led by Liberty Media and F1 - for the bold, the opportunity is there for the taking.
E2N.SG last traded at €170.
Disclosure: At the time of publishing I hold shares in E2N.SG. Holdings are subject to change at any time.